It's hard to believe that it's already October!
It's come up to that point in the year when I have to start making one of the toughest decisions I ever have to make: picking a diary/planner for the year to follow. It's so exciting to envision all the possibilities for 2014. There's so much potential for amazing things to come.
This year I was undertaking clinical placements and needed a "professional" looking diary, so I went for a plain black A4 kikki-K diary, like
this
one. However, it proved to be the wrong choice for me. It was big and clunky and difficult to carry around. I ended up leaving it at home most of the time and entering important dates into my iPhone calendar, transferring them into my diary later. Talk about annoying! So this year, I'm taking the decision a little bit more seriously.
I've short listed my favourite 2014 diaries and my reasoning behind picking each one.
1.
kikki-K 2014 A6 Weekly Leather Diary in Mint
Pros: First of all, it's MINT, literally. I love mint. It's one of my favourite colours. I love kikki-K diaries because they are all about simple and modern design. Aside from the colour, the diary itself is lightweight and small enough to carry in my handbag, and there's enough space to record the stuff I need to remember.
Cons: It's possibly too small and too cute for a "professional" to be whipping out of her bag to pencil in "important" appointments.
Pros: It was designed by the people behind my favourite magazine, Frankie. The hand-drawn illustrations inside by illustrator Sara Hingle are hands down the prettiest out of all the diaries I've seen so far. The cloth cover looks like it would feel amazingly soft to the touch.
Cons: I previously used the Frankie diary two years in a row and found that although it was the right size to carry in a handbag, it was rather heavy, and it ended up being left at home a lot of the time.
Pros: Violet is one of my favourite colours. The diary itself shows each day on its own page, which means there's plenty of room to record appointments and anything else that needs to be recorded (doodles, drawings, thoughts, etc). Moleskines have been used
by artists and thinkers over the past two centuries: among them Vincent van Gogh, Pablo Picasso and Ernest Hemingway.
Cons: Though Moleskines are legendary, they can also be a tad too simplistic and boring for someone who likes to stand out from the crowd.
Pros: I saw these cute diaries in Officeworks last week. They're super small and lightweight, and the tooled cover designs are really pretty. I'd probably go for the purple one if I had to choose between the two colours.
Cons: I actually found it difficult to think of any cons for this style, which is a good sign!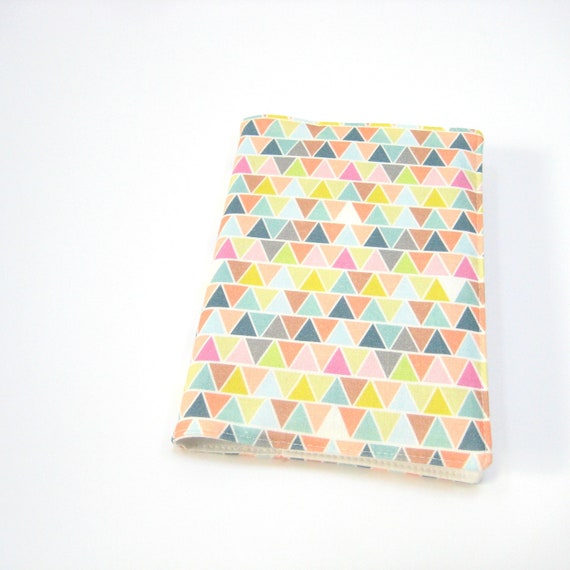 Pros: Possibly the cutest cover design I've ever seen. This diary is handmade and on trend with a geometric design. What I absolutely love about it is that it is re-usable. You can replace it with a new notebook or journal once this one ends! How great is that?! It is also customisable. You can choose between day to a page or week in view.
Cons: The pastel colour triangles are probably not very professional or grown up, but who cares anyway?
The verdict: The jury is still out on which diary I will pick for 2014.
Help me decide
, and tell me about
your
diary shortlist for 2014.
Happy choosing!